14.05.2013
ARMO-LINE has commenced the work at the Spartak stadium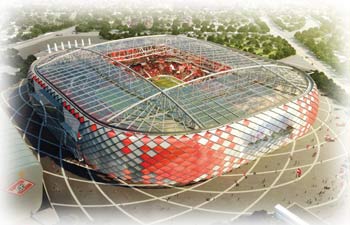 In March 2013, ARMO-LINE started to implement the project at the stadium of FC Spartak Moscow, which is currently under construction.
Construction of the Spartak football stadium is dated for preparation for and holding of events of the 2018 FIFA World Cup. Commissioning of the new modern 44,000-seats sports center in Tushino district will take place in 2014.
As of today, construction of the cast in-situ and precast reinforced-concrete stadium building has already been completed and installation of engineering systems for the sports facility has begun.  Acting as an electrical contractor ARMO-LINE is engaged in revising the detailed design, supply and installation of equipment, and commissioning of the engineering systems. Design and installation of all the systems is being carried out in accordance with FIFA regulations.
Within the framework of the project ARMO-LINE is responsible for installation and commissioning of the power supply and indoor lighting systems of the stadium, installation of built-in transformer substations and diesel power plants as backup power source, uninterruptible power supplies, earthing and lighting protection systems, and 20kV and 0.4kV in-site power lines.
Technologies, equipment and systems from the leading global producers: ABB, Legrand, VERGOKAN, Zucchini and others will be used for fitting the Spartak stadium.