29.02.2016
Armo-Systems became the Official Distributor of Milestone Systems Software in Russia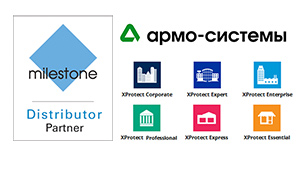 Milestone Systems, the largest global software developer for IP video surveillance systems, has authorized ARMO-System to officially distribute its products and solutions on the Russian market.  Under the Agreement signed by the two companies, ARMO-Systems is to supply the installers and integrators with the whole range of XProtect series software which fully meets ONVIF and PSIA requirements and is compatible with third party IP cameras, DVRs and other equipment. Over 100.000 Xprotect installations worldwide and prestigious awards for software development and implementation prove its reliability and performance.
Xprotect software platform from Milestone Systems is a powerful and user-friendly tool for video surveillance system development and unites 7 main software products, including free XProtect Go software version and 6 pay versions - XProtect Essential, XProtect Express, XProtect Professional, XProtect Enterprise, XProtect Expert, and XProtect Corporate. Moreover, each Milestone XProtect software package includes Smart Client for setting up cameras, alarm signals and for overall video system control; Web Client for data access over the network, and mobile applications allowing to access video from smart phones and tablets. The Milestone Systems software range allows to choose software product that fits the current needs, and gives the flexibility to expand the system by upgrading to more powerful software versions.
The combination of high functionality, modern technologies, easy integration and flexible pricing policy makes Milestone products extremely popular all over the world. To date Milestone Xprotect software has been installed in over 100.000 projects worldwide, including McDonald's fast food network, Volvo plant in Sweden, BBC and JVC British offices, IKEA shopping center in the Netherlands, a number of large airports in the USA, etc. In Russia, major corporations, municipal and government institutions, bank, supermarket, and restaurant chains use Milestone software because it offers a full range of management features and outstanding performance.
In the centerpiece of Milestone Xprotect suit are Expert and Corporate software versions that allow to build sophisticated, high performance, unlimited scalability video surveillance systems at such facilities as stadiums, hypermarket chains, international airports, etc. It is important to mention that XProtect Corporate from Milestone Systems supports Federated Architecture for managing video systems of such scale as 'Safe City', has Smart Wall module with unlimited video wall capability, integrates with Active Directory, and allows to use a toolkit to customize Milestone software modules.
To build video surveillance systems at mid-sized facilities the company offers its XProtect Professional software supporting up to 64 IP cameras per each recording server and interactive maps which not only show the exact location of IP devices but also display alarm signals for prompt detection of alarm source. For video surveillance management at large multi-site installations Milestone Systems recommend to use XProtect Enterprise software which can be integrated with such systems as XProtect LPR, Transact, Retail, Screen Recorder Systems, and Access Control Module as well as with third party software.
To set up IP video systems at small-sized facilities Milestone Systems recommends XProtect Essential and Express software versions designed for up to 26 and 48 IP cameras correspondingly. The products offer flexible licensing model, support up to 5 simultaneous connections, and provide users with all features required for easy and convenient video viewing, search and export. If required, Milestone XProtect Express can be integrated with third party video analytics and building management systems, and can be applied at retail facilities due to support linkage of POS transaction data with video for optimization of retail operations.
For more information about XProtect software products from Milestone Systems, their cost and availability, please contact ARMO-Systems by e-mail at armosystems@armo.ru or call our sales team at +7 (495) 787-3342.
Milestone Systems is a global industry leader in open platform IP video management software. Milestone XProtect packages deliver powerful, reliable, easy to manage solutions for various user categories. With 15 offices worldwide which unite over 8,000 sales partners, hundreds of partner camera integrators, and over 1,200 partner system solution developers, Milestone Systems can meet any challenges related to video surveillance and security systems regardless of their scale, complexity, and location.