04.05.2016
Otkrytie Arena Stadium Automation Project Recognized as Best in Sports Building and Facility Segment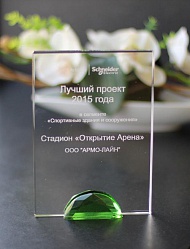 Schneider Electric – a world expert in energy management and industrial automation – has named Otkrytie Arena football stadium the best 2015 automation project in the sports building and facility segment. The well-deserved award for the implementation of the project has been given to ARMO-LINE which provided integration of the stadium's electrical and low voltage systems.
Otkrytie Arena stadium owned by Moscow Spartak football club is the second-highest capacity football stadium in Russia. It meets all FIFA requirements and is among 2018 FIFA World Cup venues. In terms of engineering infrastructure it has no parallel anywhere in the RF.

ARMO-LINE specialists have developed and implemented an integrated sports complex management system based on TAC Vista solution (Schneider Electric). The solution has allowed to automate building system operation of the stadium, administrative buildings, entrances, and multilevel open car parks.
The project provides for control and management of multiple systems and equipment, including:
- supply and exhaust ventilation;
- central refrigerating plant;
- heating substation;
- hot-water radiator heating;
- air curtains;
- fan coil units;
- lighting (including sports lighting and adjacent territory lighting);
- trace heating;
- diesel generator units;
- sewage pumping stations.
Yury Zhukovsky, business development director for ARMO-LINE: "We are pleased that Schneider Electric has given a high rating to our joint project. Implementation of an integrated management system for a 2018 World Cup stadium is an extremely significant and important project for our company. Working in close cooperation with the client and the manufacturer, we have developed a comprehensive solution allowing to integrate massive amounts of multivendor equipment into a single complex."

Roman Seregin, Schneider Electric partner manager for Russia and Belarus: "During several years of our cooperation, ARMO-LINE has been proving its high professionalism and competence. We are flattered that Schneider Electric solution has been selected for implementation of the Otkrytie Arena project."

About Schneider Electric
Schneider Electric – a world expert in energy management and industrial automation – is a leading developer and provider of integrated energy-efficient solutions for power industry and infrastructure, industrial enterprises, civil and residential facilities, as well as data centers.
About ARMO-LINE
ARMO-LINE is a full-cycle engineering company specializing  in implementation of engineering projects of any complexity. Established in 2007, the company offers its clients the whole range of services required to equip buildings with integrated BMS systems, including design, delivery, installation, start-up and commissioning, as well as after-sales services.