27.01.2015
FC Spartak's Engineering Infrastructure Ready for World Cup!
Otkrytie Arena, home stadium of Spartak football club was officially opened in the fall of 2014. The new sports complex with over 45000 seat capacity is among the first venues built for FIFA World Cup 2018. ARMO-LINE was engaged in the project as electrical engineering, low voltage and automation system contractor.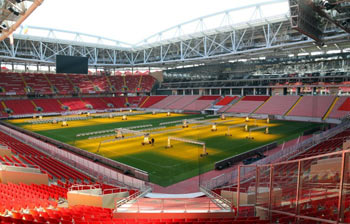 Construction of the stadium started four years ago and was progressing at record pace. As of today, the venue has been commissioned, and already hosts competitive games of the tournament. Having barely been opened, the stadium was granted Supreme Category Certificate by the Football Union of Russia (FUR), and was named "Football Stadium of the Year" by Sport Facilities magazine.  
"Football stadiums rightly fall into the category of sites of increased technical complexity, both due to enormous size of sports facilities and high concentration of various technical equipment. In addition, stadium design and equipment should fully meet FIFA, UEFA and FUR technical requirements," said Yury Zhukovsky, business development executive for ARMO-LINE.
The requirements include uninterrupted operation of all engineering systems, as according to the rules delay or cancellation of a football match is not allowed. To this end, ARMO-LINE has implemented triple-redundant power supply system. Under the project, we installed and commissioned 4 built-in transformer substations, 2 backup diesel power plants, and 20 UPS units. 
For stadium lighting, we used innovative LED-based solutions, and we also developed and successfully implemented our project of design zone and façade lighting. To meet FIFA standards, the facility was equipped with a BMS system which allows to coordinate operation of all technical equipment, increase energy efficiency, and reduce operating costs.
"As places of mass gathering, stadiums are subject to increased safety requirements. For this reason, the facility was equipped by fire alarm and voice evacuation system. Over 300 video cameras monitor the stadium round the clock; over 500 doors are equipped with access control system, with all system status information sent to central control station. Special attention was given to installation of security and communication systems in zones visited by people with reduced mobility," added Sergey Selivyorstov, head of project management department at ARMO-LINE.