25.03.2011
ARMO-Petersburg and Sony Hold a Seminar for Northwestern Region Dealers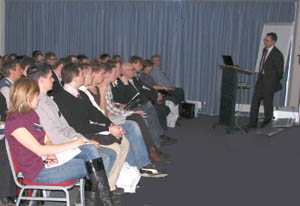 ARMO-Petersburg and Sony Corporation organized and held a dealer seminar devoted to new Sony products for comprehensive video surveillance systems, with demonstration of new equipment operation. The seminar was held on March 24, 2011 in Stenberg 2 conference hall at Holiday Inn in St. Petersburg. At the seminar, the organizers presented a line of Sony Corporation 5-th generation HD and Full HD cameras, new analog cameras, NVRs, video servers for hybrid video systems, LCD displays, as well as state-of-the-art Sony technologies used in the devices. Over 60 specialists form 44 ARMO-Petersburg partner companies attended the seminar.

The first part of the seminar was devoted to new technologies in Sony products. In particular, it covered new Effio and Effio-E digital image processors providing Sony Corporation cameras with 700 tvl horizontal resolutions and WDR, as well as supporting 2D and 3D DNR and other features. Sony DEPA Advanced intelligent technologies offering in-built video analysis and transmission of the results to host server were also presented.
The attendees showed particular interest to 5-th generation megapixel camera series which includes Sony Corporation's 1,3 and 3 MP cameras with HD and Full HD resolution. The cameras come in standard design, including bullet IR ring, and dome design – vandal-proof full-size/mini, as well as Sony's IP66 rated outdoor cameras. They use H.264, MPEG-4, and M-JPEG video codecs, with some models complimented with Squared Stream feature and capable of single or double video streaming with different resolutions.
The second part of the seminar covered Sony Corporation's solutions for building hybrid IP video systems with network and analog cameras. Sony NSR-1000 series NVRs can be used as a core of such systems. The NVRs with total HDD capacity of 1 to 16 Tb support 20 to 64 video channels. On their base, Sony Corporation specialists recommend to build video systems of any scale – from low-budget (e.g., using 4 channel NSR-S10) to multichannel systems with external SAS memory support. High quality video display in Sony systems is ensured by 42-65" professional HD or Full HD LCD monitors.
The audience paid special attention to Sony RealShot Manager Software which comes in Advanced and Lite versions. RealShot Manager Lite is bundled with all Sony Corporation's IP cameras and serves not only for camera setup but also for control of 9-channel video surveillance system. For administration of medium/large scale multibrand system Sony Corporation experts recommend to use optional full-featured RSM Advanced Software. This software version features client-server architecture and user-friendly multi-language interface, and supports up to 32 channels per server with an option to purchase licenses for 1, 4, 9, 16, or 32 channels.
For more information about the seminar and new CCTV equipment from Sony Corporation, please call ARMO-Petersburg specialists at (812) 449-1435, 449-1436, or email to armo-spb@armo.ru.
Sony Corporation is part of Sony Group and is a world's leader in development and manufacturing of products, solutions, and services for professional video systems. Sony video surveillance product line includes analog and IP standard and dome cameras, NVRs, PTZ cameras, encoders, 42-65" LCD monitors, software, etc.
ARMO-Petersburg supplies solutions, systems and equipment from leading global manufacturers used to build CCTV, access control, burglar and fire alarm, and other security systems. ARMO-Petersburg is part of ARMO group of companies, and represents ARMO in St.Petersburg and neighboring areas of the Northwestern region of Russia.