18.11.2013
ARMO-Systems' State-of-the-Art Building Security Solutions at SFITEX 2013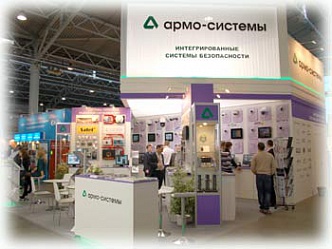 ARMO-Systems participated in the 22-nd 'Protection & Security - SFITEX 2013' International forum held in St. Petersburg on November 12 – 15 2013. This year the company demonstrated a wide range of innovative hardware and software for building security systems.
ARMO-Systems business program included two free partner seminars on new security products and solutions:
SmartStation Crossplatform Software for any IP Video Systems
Building Automation and Management Systems (Smart Building System) based on SATEL INTEGRA PLUS Control Panel.
The exhibition was used to debut SmartStation software for IP video surveillance systems of any scale, which supports integration with other security systems. In particular, the display showed SmartStation integration with Timex access control and time management system. In addition, ARMO-Systems presented SICURA Accendo+ software, offered free by CBC Group with 1-24 GANZ cameras.
On display were new CCTV products, including megapixel cameras from Axis, GANZ, Pelco by Schneider Electric, Samsung Techwin, Smartec, Sony, etc. In particular, visitors could see Sarix Value IP-cameras in offbeat design and multifunctional Sarix Professional cameras, unique 5 megapixel IP camera from AXIS, as well as Samsung 2 MP cameras built on powerful WiseNet III proprietary processor and offering 60 fps frame rate.
Access control section displayed new multiClass SE readers from HID Global, Smartec ST-VR040EM and ST-FR040EM biometric readers providing user identification by finger veins and face geometry, correspondingly, new Abloy electric strikes and accessories, as well as hardware from other well known manufacturers.
Burglar & fire alarm section demonstrated Honeywell MB Secure fire alarm panels, INTEGRA 256 control panel from Satel, as well Xtralis VLI aspirating smoke detectors designed for smoke detection at industrial facilities and providing detection zone of up to 2000 sq. m.