22.10.2012
ARMO-Systems Invites Specialists to Get Introduced to Innovative Security Systems at SFITEX-2012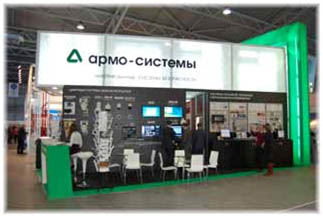 The 21-st SFITEX 2012 International Exhibition is to be held in LENEXPO Exhibition Complex in St. Petersburg, where ARMO-Group is to introduce new security equipment and solutions of the world's leading brands. In D13 booth of exhibition hall 7 ARMO-Systems will demonstrate powerful video surveillance software platform from NICE, new Milestone software, megapixel CCTV cameras from Axis, GANZ, JVC, Pelco, Sony, Smartec, as well as state-of-the-art access control, burglar & fire alarm, and time management systems.
From multiple video management software solutions, ARMO-Systems will display at SFITEX 2012 a new NiceVision Net 2.5 CCTV software version with Highlights Update Pack 1 (UP1) from NICE Systems. This version boasts larger and more structured data storage system with up to 33 TB total HDD capacity, improved IP video system operator's Site Dashboard, as well as ATM and banking system integration. In addition, ARMO-Systems specialists will demonstrate new features of the famous Milestone software and novelty of the season – SmartStation software.
Among new CCTV products the booth will highlight state-of-the-art megapixel cameras, including Smartec OTPi series, which generate megapixel video and offer advanced features, and new NEYRO series cameras with built-in video analytics. Also, video equipment section will display new products and solutions from Axis Communications, including AXIS Q1604 HDTV 720P WDR camera; Ganz ZN-M2AF and ZN-B2MAP compact 2MP cameras with integrated lens; and all new products from JVC, Pelco by Schneider Electric, Sony, and other manufacturers.
Access control section will introduce new Smartec biometric and RFID readers and other access control equipment. Major companies will undoubtedly take interest in security systems from Lenel Systems and other manufacturers. On display will be a new version of Timex software which can serve a platform for control of all Smartec access control and time management equipment. Its competitive advantage is a wide range of reporting options and compatibility with various systems.
Among new burglar and fire alarm products ARMO-Systems will display new Satel equipment — control panels, burglar and fire detectors, and wireless data transmission modules, suitable for installation at facilities of any scale, from private households to office buildings and distributed business centers. In addition, visitors will learn about new features of Esser by Honeywell and GE/Aritech fire alarm systems, as well as OSID aspirating systems and multibeam smoke detectors from Vesda by Xtralis.
For more information about CCTV, access control, and burglar & fire alarm equipment and new products to be displayed at SFITEX 2012, please contact ARMO-Systems office in St. Petersburg by phone at (812) 303-53-53, or by e-mail at armo-peterburg@armo.ru.
ARMO-Systems is among Russia's major distributers of CCTV, access control, and burglar & fire alarm equipment. Currently, the company has on staff over 100 specialists, 75% of which are employed in security equipment distribution and sales throughout Russia and the CIS. ARMO-Systems markets security systems for industrial facilities, shopping centers, office and administrative buildings, banks, business centers, hotels, sports and cultural venues, etc.