07.11.2011
ARMO-Systems to Present State-of-the-Art Security Systems from World's Leading Manufacturers at SFITEX-2011 in St. Petersburg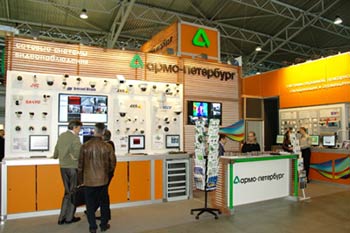 ARMO-Systems invites specialists and CEOs to attend the 20-th 'Protection & Security - SFITEX 2011' International Exhibition to be held on November 15 – 18, 2011 in LENEXPO Exhibition Complex in St. Petersburg. ARMO-Systems is to demonstrate in booth D11 of exhibition hall 7 new CCTV, access control, and burglar & fire alarm hardware, as well as integrated security systems from the world's leading producers. In addition, at SFITEX it will hold 2 topical seminars. Visitors will be able to get introduced to new Pelco IP cameras built on innovative SureVision platform, unique Vesda/Xtralis fire alarm system, and other products of famous brands, including Axis, Bosch, CBC Group, Cisco, JVC, Lenel, Sony, Smartec, etc.
At the area of 70 sq. m., ARMO-Systems will demonstrate to SFITEX visitors the most interesting equipment and solutions for security systems of various complexity. The central part of the exposition will be devoted to CCTV systems and will display Pelco innovative IP cameras with SureVision technology, state-of-the-art IP cameras from Axis and Sony, new line of IP equipment from CBC Group, etc. The company's specialists will introduce visitors to features of the new Sony RSM, Pelco Endura, and Cisco VMS iPad Client software. In addition, SFITEX will be used to demonstrate megapixel lenses from Fujinon and Computar, multichannel DVRs, and professional monitors of various manufacturers. 
Another part of the booth will display all new Smartec equipment for CCTV and access control systems. In particular, SFITEX visitors will have a chance to assess innovative family of cameras on Sony Effio platform, which is characterized by up to 54 dB wide dynamic range, high 680/700 TVL resolution, and supports multiple technologies improving video quality. At SFITEX, ARMO-Systems will also introduce upgraded family of NEYRO series IP cameras build on DaVinci processor and equipped with VCA Presence video analytics from the British VCA Technology company.
Access control zone will display HID products, including RFID readers of classic and unusual design, ID cards and tags operating at 125 KHz and 13,5 MHz. SFITEX will also be used to demonstrate operation of Smartec access control equipment, integrated systems from Lenel and some other manufacturers. A new version of multiserver Timex software will be used as a platform for control of all Smartec equipment. Along with access control, the software supports time management. A major advantage of the software is availability of SDK (Software Development Kit), allowing to integrate the software into third-party access control and ERP systems, and to generate a wide range of reports.
In burglar & fire alarm section, ARMO-Systems will demonstrate solutions from Esser by Honeywell, Satel, Simplex, etc. for alarm systems of various sites. Vesda by Xtralis early warning aspirating smoke detection systems that use PVC pipe network to continuously draw in air samples from different zones of protected area, smoke detectors, programmers, monitors, etc. deserve special mention. Leading specialists from ARMO-Systems will give consultations on all sophisticated systems displayed in the booth. They will answer any questions and suggest the best solution.
Topical seminars on innovative security products will be held by ARMO-Systems within the framework of SFITEX business program. On November 16, from 3PM to 4PM Vesda/Xtralis regional manager Mikhail Eliseev will speak about Xtralis multi-beam open-area smoke imaging detection systems at conference hall C, exhibition hall 7.  On November 17, from 2PM to 3PM at conference hall A ARMO-Systems experts will introduce cost-effective access control and time management solutions based on Smartec hardware and Timex software.    
For more information about CCTV, access control, and burglar & fire alarm equipment and new products to be displayed at SFITEX 2011, please contact ARMO-Systems office in St. Petersburg by phone at (812) 303-53-53, or by e-mail at armo-peterburg@armo.ru.
ARMO-Systems is among Russia's major distributers of CCTV, access control, and burglar & fire alarm equipment.  Currently, the company has on staff over 100 specialists, 75% of which are employed in security equipment distribution and sales throughout Russia and the CIS.  ARMO-Systems markets security systems for industrial facilities, shopping centers, office and administrative buildings, banks, business centers, hotels, sports and cultural venues, etc.