21.11.2011
Engineering systems project for Pervouralsk metallurgical School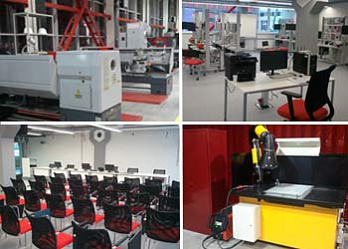 ARMO-Line engineering company has completed construction-installation works in Pervouralsk metallurgical School, which is a part of common investment project "White metallurgy Future"of Chelyabinsk Tube-Rolling Plant (ChelPipe) and the government of the Sverdlovsk region.
The new training center of Pervouralsk New-Pipe Plant (part of ChelPipe) aims to enhance the prestige of blue-collar job and to develop a new shift of young professional people, who will be able to work in the industrial metallurgical projects of Sverdlovsk region.
According to the opinion of Andrey Komarov, the co-chairman of the Pump Industry Development Fund and the stockowner of ChelPipe Company, – the creation of a unique educational center with no analog in Russia is a great opportunity for young people in Pervouralsk and also in Sverdlovsk and adjacent regions to get high-quality education and in-demand profession.
The total area of the School is more than 5,200 sq. m and includes the educational and industrial departments. Modern classrooms and laboratories, videoconference room and interactive-study area are organized for junior engineers. The processing part (department) is divided into sections for tube processing, machining and rolling. And it is in the works to place the basic equipment (milling and turning systems, machining the units and reeler) in these sections.
The multipurpose project of engineering systems and chain of building has been worked out for installation and connection of modern machines and training equipment as well as for comfortable learning environment. The prime project contractor was "New Building Technologies" Company ("Novije Stroitelnije Tehnologii"). The leading general designer was "E-programm" Company ("Yo-programm").
Within the framework of the project ARMO-Line has completed the mechanical design and equipment supply, installation of electrical power, interior lighting and low-current building systems as well as their check out and start up. At the present time specialists begin to install the automation and control systems of environmental equipment (HVAC).
After all systems implementation, ARMO-Line will provide warranty and aftersales service of installed engineering equipment.
ChelPipe is one of the leading industrial groups of Russian metals-production sector, which is represented by Chelyabinsk Tube-Rolling Plant and Pervouralsk New-Pipe Plant. 23 percents of Russian pipe production falls to ChelPipe share. And the total number of employees is more than 25,000 people.