08.04.2015
ARMO-Systems to Introduce Innovative Solutions from World Leading Security Systems Vendors at MIPS-2015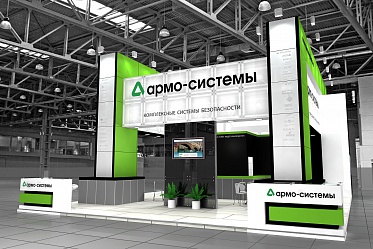 ARMO-Systems invites clients, partners and security specialists to visit its booth А305 at the 21-st Moscow international 'Protection, Security and Fire Safety 'MIPS-2015'' exhibition to be held at VDNKh Pavilion 75 on April 13-16, 2015. At the exhibition, ARMO-Systems is to present Hitron Systems' line of equipment for CCTV, as well as the most interesting new equipment from its vendors, including AXIS Communications, Bosch, CBC Group, HID Global, Fujinon, Pelco by Schneider Electric, Satel, Lenel, and Videotec. The company also invites to 'Innovative solutions for SATEL intelligent security systems' free seminar to be held on April 15 within the framework of the exhibition business program.
In access control, ARMO-Systems is to present new version of integrated security system from LENEL United Technologies which combines access control, CCTV, and burglar and fire alarm sub-systems and shows stable operation at major facilities. For both physical and logical access control systems, ARMO-Systems is to demonstrate new solutions from HID Global, including mobile phone based systems, as well as state-of-the-art locking devices from ABLOY, including electric strikes and mechatronics systems.


From AXIS Communications,
ARMO-Systems is to introduce F Series Mini cameras with up to 194° horizontal angle of view and off-beat design based on divided camera concept. The system comprises separate main and sensor units which can be installed on ATMs or other tight places where it is impossible to install standard cameras. To 'counterbalance' mini cameras, ARMO-Systems is to demonstrate a new

 

AXIS Q6000-E 360
°
camera that integrates with powerful Q6035-E PTZ dome and provides detailed video recording over large areas up to
20 thousand sq. m. Equally interesting will be AXIS P1428-E 4K cameras and vandal-proof Q8414-LVS, as well as Fujinon megapixel optical products and high-end binoculars.
For small-sized professional video surveillance systems,
ARMO-Systems is to offer two solutions based on new IP cameras and NVRs from Bosch Security Systems and CBC Group, designed for different budgets. Bosch system includes NBN-800052-BA 5MP high sensitivity camera, NUC-21012-F2 HD 720p IP camera, and DIP-3000 NVR, while CBC Group system consists of 2
МР
GANZ ZN-M2AF and ZN-B2MTP cameras and 8-channel NR8HL NVR. Live demonstration of both systems will allow to fully assess picture quality and ease of operation and setup.
As Hitron Systems exclusive distributor,
ARMO-Systems is to present the vendor's most recent equipment for CCTV systems including IP cameras, NVRs, and Titanium+ NVR software solution, standing apart from similar equipment due to high quality and affordable price. At Hitron exposition, you will see

 

NDT-6341 3MP Fisheye mini camera, NFX-22153C1 30X speed dome,

 

NVX-2273D and NUX-2265R outdoor IR LED cameras with

 

SmartFocus support, NCT-5251 Cube camera, as well as Jupiter and Venus NVR series.
Within the framework of the exhibition business program,
ARMO-Systems will give 'Innovative solutions for SATEL intelligent security systems' seminar for system designers and integrators to be held in hall 214 on April 15 from 12.00 to 13.00. Vladislav Markichev, SATEL engineer, is to present new technologies and equipment for smart home systems that will be available in 2015. In particular, he is to tell about new features of Versa Plus hybrid control panel supporting 3 communication channels: Ethernet, GSM/GPRS, and PSTN, as well as about other SATEL new products.
We are looking forward to see you on any day of the exhibition at our booth А305 at VDNKh Pavilion 75.
For more information about new CCTV, access control, and burglar & fire alarm equipment and solutions to be presented by ARMO-Systems at MIPS-2015, please email to armosystems@armo.ru, or contact our Moscow office by multichannel phone line at +7 (495) 787-3342.

ARMO-Systems is among Russia's major distributers of CCTV, access control, and burglar & fire alarm equipment.  Currently, the company has on staff over 100 specialists, 75% of which are employed in security equipment distribution and sales throughout Russia and the CIS.  ARMO-Systems markets security systems for industrial facilities, shopping centers, office and administrative buildings, banks, business centers, hotels, sports and cultural venues, etc.