26.04.2013
ARMO-Systems Participated in the 19-th MIPS-2013 International Security and Protection Exhibition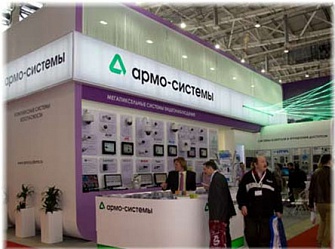 The 19-th annual 'Protection, Security and Fire Safety. MIPS-2014' exhibition was held in All-Russia Exhibition Center in Moscow. At the exhibition, ARMO-Systems presented new equipment and solutions for video surveillance systems of any scale from the world's leading manufacturers, including AXIS, Bosch, CBC Group, JVC, Pelco by Schneider Electric, Sony, and Videotec. ARMO-Systems debuted at MIPS-2013 SmartIntegrator software for bank security systems, and displayed CCTV, access control and burglar & fire alarm systems based on hardware and software from Bosch, Esser, HID, Lenel, Satel, Vesda by Xtralis, and others.
ARMO-Systems' booth visitors were introduced to new CCTV camera models from AXIS, GANZ, Bosch, JVC, Pelco, Sony, Videotec, etc. Within the wide range of new products from AXIS Communications, P1214-E  HD 720p mini cameras for ATM and M3007-PV  360° panoramic 5 MP IP cameras attracted special attention. Equally interesting for specialists were new SONY cameras with video analytics, as well as new Full HD cameras in popular Spectra and Esprit families from Pelco by Schneider Electric.
MIPS-2013 was used to launch new SmartIntegrator software with video analytics support allowing to build heterogeneous bank video surveillance systems of any scale and complexity. The software allows to integrate into hierarchical system dozens thousands of IP devices from different manufacturers for CCTV surveillance of buildings and ATM zones.
Among access control new products, on display was HID innovative iClass SE reader series, using principally new Secure Identity Object™ data collection technology and allowing to build high security access control systems with multiple technology and identification standard support. ARMO-Systems also demonstrated new Lenel OnGuard software, which can be used as a core for multicamera and multireader CCTV and access control systems.
Burglar & fire alarm section displayed equipment from Bosch, Esser, Satel, Vesda, etc. In Satel line of products, a new GSM-5 module supporting 2 SIM cards, and modernized Integra series of Grande3 certified fire alarms were presented. In Vesda by Xtralis line of products, ARMO-Systems demonstrated OSID beam smoke detectors for super early fire detection, which ensure effective fire control in open areas.  
For more information about new CCTV, access control, and burglar & fire alarm products from world's leading manufacturers, please contact ARMO-Systems by e-mail at armosystems@armo.ru or by multichannel phone line at (495) 787-3342. Otherwise you may contact ARMO regional offices.
ARMO-Systems is among Russia's major distributers of CCTV, access control, and burglar & fire alarm equipment.  Currently, the company has on staff over 100 specialists, 75% of which are employed in security equipment distribution and sales throughout Russia and the CIS.  ARMO-Systems markets security systems for industrial facilities, shopping centers, office and administrative buildings, banks, business centers, hotels, sports and cultural venues, etc.