20.06.2011
ARMO-LINE and Kieback&Peter have held a seminar on building automation systems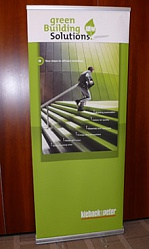 ARMO-LINE Company and Kieback&Peter have held a joint seminar devoted to building automation systems and issues of energy saving during design and construction of real estate facilities. Partner companies involved in development and construction of buildings of various purposes were invited to attend the seminar which was held on June 16, 2011 at Sheraton Palace hotel in Moscow.  After review report on the lately popular subject of Green Building, and after covering major aspects of LEED certification, speakers told the audience about projects and solutions based on Kieback&Peter products allowing to significantly increase energy efficiency of any building.
The opening part of the seminar was devoted to the subject of creating energy-efficient Green Buildings and their certification under LEED – a system developed by US GreenBuilding Council (USGBC), the member of which is Kieback&Peter. According to Frank Burghardt, director for external economic relations at Kieback&Peter, building automation has an huge impact on energy efficiency of a building and has an enormous potential for reducing energy consumption (in the first place, in the sphere of heat and energy saving).
In continuation of the subject of increasing energy efficiency of buildings, Daniel Ukker, the head of  Kieback&Peter representative office in Russia, told about DIN EN 15232 European energy saving norms for buildings. According to their classification, 4 energy saving categories are used depending on building automation level: А, В, С, and D. The higher the category, the more possibilities to reduce its energy consumption. According to Kieback&Peter estimates, A energy saving category in office buildings provides for up to 30% reduction of energy consumption, in educational facilities – up to 20%, in restaurants and hotels – up to 32%, while in shopping centers – up to 40%.
Building automation system based on Kieback&Peter equipment includes three functional levels: room, automation and management. Room automation level provides coordinated operation of sensors and special purpose peripherals. Automation level implies intelligent control of elementary systems, automatic optimization of energy consumption, as well as integration of all building systems. Management level offers a wide range of capabilities for data analysis and optimization.
In the final part of the seminar Uriy Zhukovsky, ARMO-LINE business development director, made a report, presenting actual energy consumption data for various buildings, obtained during their operation. Based on a life cycle of one abstract building, its 5-year energy efficiency curve was built. At present, it has become more vital to talk not about BMS - Building Management Systems, but about BEMS – Building Energy Management Systems.
For more information about the seminar, as well as about Kieback&Peter equipment and solutions for building automation systems, please contact ARMO-Line at  (495) 787-33-37 or send your request to info@armo-line.ru.
German Kieback&Peter company is a leading producer of equipment and system solutions for HVAC management, as well as building management. The company, established in 1927 in Berlin, has been successfully operating in Germany, Austria, France, Italy, the Netherlands, Switzerland, and other European countries, while its staff includes over 950 people. All products are manufactured in Germany and meet DIN ISO 9001 quality standards.