02.11.2015
Security System Integration for JTI Russia Headquarters Completed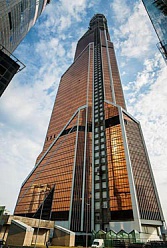 ARMO-LINE has developed and put into operation Integrated Security System (ISS) for JTI new office in Mercury City business center – one of the highest buildings in Europe.
The primary goal of the project was integration of all security system components and synchronization of data exchange among the subsystems. The ISS has helped to optimize the security department operations and facilitate rapid decision making.
'The safety and security of staff is the company's priority. The key requirements to security system included reliability and time-proved operational stability and consistency', noted Vladimir Ivanov, Security Director for JTI Russia.
OnGuard (Lenel) multiserver system was chosen as integration platform which has allowed to unite access control, CCTV, intruder alarm, time and attendance management, and video intercom at the company's offices.
The implemented solution is based on LNL-3300 intelligent controllers supporting dual-path communication with the ISS central server. Due to open architecture, it has been possible to integrate the security system with Simplex fire alarm installed in Mercury City tower.
A wide list of hardware and software from the world's leading manufacturers has been used in the project, including Lenel, HID, Sony, Cisco, Bose, Bosch, Panasonic, Fermax, Timex, etc. In particular, round-the-clock CCTV system is based on LNVR network video recorders with sixteen 3TB hard drives, and Sony IP dome cameras with built-in motion detector.
For integrated event monitoring and analysis, a Situation Center has been set up and equipped with security system operator workstation, and video wall consisting of eight 42" LCD panels. The implemented public address system with real-time control is based on Bose audio equipment. The system allows to make announcements and page employees, and is also used to play background music at the office.
Within the framework of the project, ARMO-LINE engineers developed design and operating documents, performed equipment installation and pre-commissioning. To date, the integrated security system has been successfully commissioned and put into service.
'We started to work with JTI Russia rather long ago, when we were upgrading the security system in the company's former office. It was back then when we developed a balanced approach to Integrated Security System providing for further development of the facility. Starting to work in the new office of the company we went by the 'golden' rule of creating some excess system capacity to allow for easy expansion of the system or even for building a geographically distributed network and linking regional offices', comments Mikhail Shirokov, ARMO-LINE project manager.
JTI is a member of Japan Tobacco Group of Companies (JT) and is a leading international tobacco manufacturer. JTI is headquartered in Geneva (Switzerland). The company operates in over 120 countries and has a staff of more than 26,000 employees. The company is represented on the Russian market with a sales and marketing unit and four factories – Petro in St. Petersburg, Liggett-Ducat in Moscow, Cres Neva in Leningrad Oblast, and JTI Yelets in Lipetsk Oblast. Over 4,500 employees work for JTI in Russia.  
JTI is the largest investor into the Russian tobacco industry. The total amount of the company's direct investments into the Russian economy has reached $1.9 billion. In 2015, JTI was among the top 5 largest foreign companies in Russia according to Forbes.
ARMO-LINE is a full-cycle engineering company specializing in implementation of engineering projects of any complexity. Established in 2007, the company offers its clients the whole range of services required to equip buildings with integrated BMS systems, including design, delivery, installation, start-up and commissioning, as well as after-sales service.