21.12.2011
ARMO Training Center Signs Partnership Agreement with Johnson Controls to Provide Automation System Training to Russian Specialists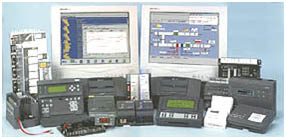 ARMO Training Center continues to develop new courses covering building automation using Johnson Controls FX series controllers, and their integration into BMS. In addition, the Center launches a new training course for building automation, management, CCTV, and access control equipment and software. Training is provided on Johnson Controls equipment and based on methods jointly developed by ARMO Training Center and Johnson Controls specialists.
A new course is targeted at designers and installers, as well as at operation and maintenance specialists. Special focus is given to training of operation and maintenance specialists for facilities with Johnson Controls' previous-generation automation systems.
Currently, the Center offers the following refresher courses for operation and maintenance specialists:
Programming and operation of DX series controllers
Operation of previous-generation NCM and N30 hardware servers
Maintenance of HVAC systems controlled by Johnson Controls automation systems
For designer and installers the Center offers courses covering modern equipment:
Programming of FX series controllers and automation systems on their basis
Operation of Mxi family of SCADA systems
Operation of ADS/ADX software for Metasys System Extended Architecture (MSEA) server platforms
Courses covering structural arrangement of building management and automation system will be useful both for designers and operation & maintenance specialists:
Integration of Johnson Controls systems into BACNet networks
Integration of Johnson Controls systems into LON networks
Using Johnson Controls automation components in ventilation control systems
Using Johnson Controls controllers in heating and cooling systems
For more information about programs, course duration and cost, please send your inquiry by e-mail to training@armo.ru, or call ARMO Training Center at (495) 788-40-71.
Johnson Controls is one of the world's major building management system equipment manufacturers . It supplies equipment under Johnson Controls, York, and Varta trademarks for many industries, including building management, and offers turn-key solutions for control of standalone units, integration of controllers into a single network, and creating building management systems.