17.11.2014
ARMO-Systems Gets Exclusive Rights to Supply Video Surveillance Equipment from Hitron Systems to Russia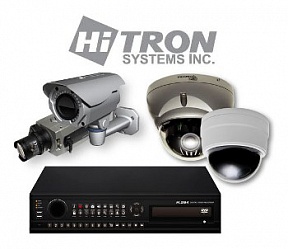 ARMO-Systems has signed a distribution equipment with Korean Hitron Systems Inc. – a well-known manufacturer of hardware and software products for CCTV systems. Under the agreement, ARMO-Systems is to supply and sell the vendor's products in Russia, do warranty work, and provide consulting services. Hitron equipment line includes analog HD-SDI, and IP cameras, DVRs, NVRs, software, as well as a wide range of accessories and mounting equipment. An integral part of Hitron product line is its unique IP-Matrix platform designed for building 100 to 1000 channel video systems supporting integration with cloud services and access control systems.
Hitron Systems' IP camera spectrum includes models with 1MP to 3MP resolution, with Full HD and higher resolution cameras equipped with Sony Exmor image sensors to achieve the highest possible image quality even in low light environment. Hitron NVR product line along with classical stand alone models includes enterprise class platforms supporting from 4 to 60 IP camera inputs and allowing to use internal HDDs of required capacity. For faster installation of CCTV systems, a number of NVRs from Hitron Systems support auto IP camera detection and configuration, their power supply using PoE, as well as operation in Wi-Fi networks.
Each Hitron IP camera and NVR is bundled with free Smart Manager software, providing all required features of network search, registration, and setup, as well as their performance monitoring. More advanced NC Titanium software supports up to 64 IP inputs with selectable recording modes, simultaneous live viewing of up to 16 cameras with Full HD resolution, and client Mobile App TIVE for video management from mobile devices. In addition, Hitron offers optional corporate class multiserver VMS product - Titanium+ which allows to use unlimited number of IP devices (64 channels per recording server) and has a wide range of features.  
An interesting innovative solution from Hitron Systems is IP-Matrix hardware & software platform which can be used to build video surveillance systems of 100 to 1000 channels per server. Such system allows to use cameras with resolution up to 10MP, supports 3-party PTZ and fisheye cameras, and has multiple performance advantages including minimized maintenance and personnel training expenses, and up to 96% reduction of energy consumption. Moreover, Hitron specialists have designed IP-Matrix to support cloud services and easily integrate with other security systems, e.g. access control.
For compatibility with video equipment from such market leaders as Axis Communications, Bosch Security Systems, Sony, etc., Hitron has adopted ONVIF standards early on, and today all its IP equipment supports ONVIF Profile S. Along with flexibility, Hitron proprietary software provides fast video system customization. In particular, Titanium+ software fully supports over 60 brands of IP equipment, which allows to minimize expenses when building multibrand video surveillance systems.
For more information about full Hitron Systems' security product line, please contact ARMO-Systems – the official Russian distributor of Hitron equipment. You may reach ARMO-Systems sales department by phone at +7 (495) 787-3342, e-mail to armosystems@armo.ru , or contact ARMO regional offices.
Hitron Systems Inc. (South Korea) has been operating at security market since 1986, and offers a wide range of equipment, software products, and integrated CCTV solutions for various industries. Hitron specialists have been continuously developing innovative products that undergo strict quality control, have high-quality design and attractive price.