09.08.2010
ARMO-Systems Starts to Distribute Indala/HID Global RFID Access Control Devices with Multiple Identification Levels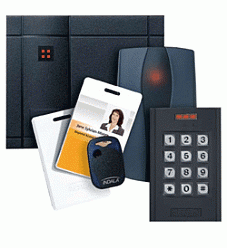 HID Global and ARMO-Systems have expanded distribution agreement under which ARMO-Systems is to supply a line of HID Indala RFID access control equipment to the Russian market. The product line includes contactless cards, key fobs, tags and readers operating at 125 kHz and using multiple identification levels. To enhance security level, access cards together with Indala readers are programmed on site via ProxSmith® Programmer, while FlexSecur® encryption system is used for verification.   

Indala brand includes two lines of RFID readers - FlaxPass® and PinProx®. The first line unites models with 12, 30, and 68 cm read range which utilize only RFID identification technology. The other – similar readers with 10 cm read range, but complemented with a keypad. Both reader lines are equipped with Wiegand output to connect to any third-party access control system controllers. In addition, among multiple Indala readers, user can choose a model which suits particular operation environment in read range and type of installation (indoor or outdoor), as well as in color (white, beige, grey, or black), dimensions, and design (Arch, Linear, Curve, or Wave).
Indala line of RFID cards is represented by FlexCard® cards, FlexISO® cards with their surface optimized for image printing, and heavy-duty FlexISO®XT cards made of composite material. Standard HID FlexCard® has size of a usual credit card, and can be personalized on both sides with self-adhesive label with graphics or photo printed on its surface. Unlike FlexCard®, FlexISO cards allow to print image directly on their surface, and are issued with extra identification technologies: bar code, magnetic stripe and/or smart chip. Indala FlexISO®XT cards are suitable for use in extreme environment. They have similar features as FlexISO®, but are made of special composite material.
Indala range of RFID credentials also includes programmable FlexKey® key hobs and FlexTag® tags. Radio key hobs can be attached to a key, badge clip, or lanyard, they are protected from screening and precipitation, and provide code reading at distances up to 40 cm, depending on reader model. Идентификационные метки Indala identification tags with read distances up to 35 cm and self-adhesive back can stick to any non-metal object, e.g., plastic pass containing user's ID and photo, magnetic stripe access card, etc.
Support of on-site programming of Indala device adds setup flexibility and access control system reliability, as well as enhances site security. For card and reader reprogramming according to corporate format, the manufacturer offers ProxSmith® package, which consists of a specialized programmer and Windows-based software. During Indala device programming, codes are created automatically by the software, while passwords including up to 10 symbols can be generated randomly or assigned manually.
To enhance access control system security level, all Indala RFID devices utilize FlexSecur® encryption system which prevents unintentional or intentional access attempts by using dual authentication: first the card is identified by the reader, and then its code is verified in access control system database. Since a certain password is programmed in the reader and on a group of Indala cards, the reader sends ID code of the card to access control system controller only if the reader's and the card's passwords match. As a result, only the cards preprogrammed for a certain access point would be permitted for verification in the system's database.
For more information about Indala access control and management devices, as well as other HID Global, email to armosystems@armo.ru or call ARMO-Systems sales department at (495) 787-3342 (multi channel line). ARMO-Systems is an official distributor of HID Global RFID systems and software in Russia.
HID Global, part of ASSA group, is a world's leader in production of equipment for access control and management systems for buildings, computers and LANs. HID develops and manufactures contactless access cards, key fobs, tags, smart cards and RFID readers using iClass, Mifare, and Proximity technologies, as well as biometric fingerprint readers.