23.04.2012
Work has begun on the design of engineering systems at GoodZone shopping and entertainment center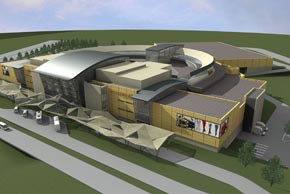 ARMO Line has started engineering and design work for GoodZone shopping and entertainment center at Kashirskoye highway. The total floor area of the building is 145 thousand square meters including three shopping floors and 2 underground parking levels. After resumption of construction project in November 2011, ARMO-Line signed an agreement to design, install and precommission all internal engoneering systems.
New GoodZone shopping and entertainment center is located in the south of Moscow at the intersection of Kashirskoye and Varshavskoye highways. The total floor area of 145 thousand sq. Meters will include 3 floors of stores, restaurants, multiplex movie theater, bowling and chiuldren's entertainment center, as well as 2 levels of underground parking. The investor of GoodZone shopping and entertainment center is Austrian IMMOFINANZ investment group.
After 'unfreezing' the construction project in November 2011, Fenix Development - the developer of the project – and ARMO Line engineering company signed an agreement to design (Documentation stage), install, and precommission all internal engineering systems, as well as provide 3-year warranty service. Project completion is scheduled for the 4-th quarter of 2012. 
According to ARMO-Line managing director Andrei Garshin, the shopping center enginnering system project is developed in consideration of international standards for shopping area comfort, shoppers and building security and energy saving. Technical consulting, and control of project execution and its compliance with project documentation is provided by the famous German  Dress & Sommer company.
Multifunctionality of the shopping center puts strict limits on selection and design of engineering systems to ensure comfort of tenants and visitors. Within the project, ARMO-Line prepares documentation for all internal engineering systems of the building including mechanical, electrical and low-voltage systems.
IMMOFINANZ group is among the five leading European public real estate investors, listed on the Vienna Stock Exchange (АТХ). Since its foundation in 1990, the company has formed a first-class property portfolio including over 1600 properties to the total amount of about 8.5 billion euro.  IMMOFINANZ group's main spheres of operation include property purchase, management, development, and sale.  IMMOFINANZ group's activities are concentrated on retail, office, logistics and residential properties.