25.08.2015
ARMO-LINE Continues Cooperation with FM Logistic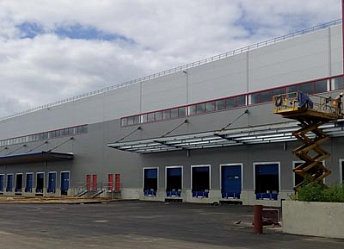 ARMO-LINE has launched a project to build engineering infrastructure for the 3-d stage of FM Logistic 'Dmitrov' platform. After completion, the total area of the platform will be 140 thousand square meters, making it FM Logistic's largest warehouse not only in Russia, but throughout the world.
'This is not our first experience of cooperation with FM Logistic; we simultaneously continue construction and installation at the platform 'Noginsk'. Under the project, ARMO-LINE provides amendment of technical documents, supply of equipment, and commissioning of all electrical systems,' comments Andrey Garshin, ARMO-LINE managing director.
To supply power to the 3-d stage of warehouse facilities, the project provides for construction of a 1250 kWA transformer substation, installation of main distribution board and switching equipment, as well as laying of intrasite 0.4 kV and 10kV lines.
The DALI technology based lighting control system implemented by ARMO-LINE specialists will provide automatic operation of around 450 LED lights and will ensure substantial energy savings in the future.
'ARMO-LINE has a wide experience of implementation of engineering projects for warehouses and logistics centers. After studying the client's in-house standards, we help to modify the project to meet Russian requirements and support the project until RosTekhNadzor issues a Permit to Use,' adds Sergey Seliverstov, head of ARMO-LINE project management department. 
FM Logistiс is a world leading logistics operator. The company provides a full range of logistics services, including warehousing, all kinds of transportation, packing and packaging, customs clearance. The total area of storage facilities in Russia alone is 520,000 sq. meters; the number of employees exceeds 8,000 people. FM Logistic's turnover in Russia from April 2013 to March 2014 amounted to 310 mln euro.