02.12.2013
New Brand in ARMO-Systems Product Line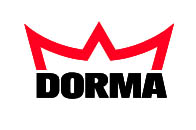 ARMO-Systems has signed distributor agreement with German Dorma company to supply equipment for entrance and evacuation systems. ARMO-Systems will offer to its partners and clients a full range of Dorma products, including equipment for glass doors, door closers, door closers with slide channel, classic arm closers and floor springs, as well as door operators.
For over 100-year history Dorma has achieved excellent results in door equipment and accessories segment. Today products of this trademark are distinguished for outstanding quality, extended functionality, and elegant design. In particular, in slide channel closers Dorma uses innovative technology (heart-shaped cam shaft), which ensures doubled reduction of door opening resistance already at 30°.
One of the company's significant developments is a system for escape routes and emergency exits. High level of security and functionality of this Dorma system combine with thoughtful ergonomics of external elements: reduced bar projection and streamlined angle brackets minimize injury risk in emergency situations. All types of Dorma anti-panic solutions can be used with any timber or narrow stile doors, since they incorporate electric and mechanical locks, as well as access control elements.
Dorma fully glazed structures and wide range of door furniture are very popular in Russia. Use of toughened glass partitions for space zoning, access control and sound-proofing allows to retain space and light. Dorma door furniture offered for such structures is made from high quality materials using proprietary technology which ensures its reliability and durability. Due to laconic high tech design and unity of style door fittings and handles blend with any interior design.
For more information about partnership and prices on Dorma door and emergency exit control equipment, as well as fully glazed structures, etc., please contact ARMO-Systems by e-mail at armosystems@armo.ru or by multichannel phone line at (495) 787-3342. Otherwise you may contact ARMO regional offices.
German Dorma company is global market leader in entrance control equipment, furniture for glass structures, and sliding walls. In security segment, Dorma is №1 in Germany in sales of systems for escape routes and emergency exit control. Factories manufacturing hardware of this trade mark operate in Europe, Singapore, Malaysia, China, North and South America, while the head office of the Group is headquarted in Ennepetal, Germany.