28.09.2010
ARMO-Line has completed design and installation of integrated security systems in "Selectel" data center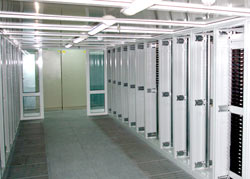 New "Selectel" Data Center, located in Moscow, Berzarina St., offers a wide range of telecommunication services. The total area of its premises is over 500 sq. m., including 300 sq. m of the server room area. Data Center is equipped with 80 service cabinets, precision air conditioners, and clusters of uninterruptible power supplies. Protected zone includes Data Center and storage area for clients' spare equipment.
Integrated security system of «Selectel» Data Center is designed using Cisco Access Control (ACS) equipment and software. The main components of CAC are the server with installed Cisco Physical Access Manager (Cisco PAM) software and controllers with connected RFID and biometric readers, actuators and other equipment of HID, Gianni, ZK Software, etc. With the help of this software user can configure security systems settings and provide its integration with various software applications.
For deployment of the integrated security system, ARMO-LINE specialists carried out design and installation of the Data Center security systems, using the media server with Cisco Video Surveillance Media (VSM) software. It enables collecting and routing of video streams from IP-cameras and provides archiving, backup and data security, as well as sorting the archive information. Due to the integration of security and access control systems, alarm events initiates display of alarm images from the cameras installed in the detection area.
Within a project framework, installation of security systems included installation of Cisco IP-cameras, which generate high quality images under different light conditions and support Power-over-Ethernet. In addition, Cisco cameras feature built-in microphones and can transmit audio streams through IP-channel. For alarm notification about motion in the monitoring areas, these cameras are equipped with a special hardware motion detector. Integrated security system carries out recording and data storage using Cisco media server HDDs.
To ensure the required level of security, ARMO-LINE specialists organized a special gateway room on the territory of the data center. This room is designed for main control and authorization of working staff and visitors of the data centers. It allows users to provide person identification and restrict access to the data center in case of intrusion. Gateway pass consists of two interconnected doors, working in a one way mode. During the installation of security systems ARMO-LINE specialists installed in the gateway two Cisco controllers with special pre-installed operation modes.
Additional protection against unauthorized access to the data center is provided by RFID-readers of HID Company, whereas specially protected areas are equipped with biometric readers of ZK Software. As part of "Selectel" security system are also used Gianni electromagnetic locks and Smartec magnetic door contacts. To ensure stable operation during electricity malfunction ARMO-LINE carried out not only installation of security systems, but also installed uninterruptible power supplies of APC and Altronix companies.
For more information about ARMO-Line Company, its services and projects, please, send your requests to info@armo-line.ru or contact our managers by (495) 787-33-37.
"Selectel" data centers network was deployed in 2007 and now is the fastest growing business in the Russian telecom market. Today the Company has two modern data centers in St. Petersburg, one in Leningrad region and one in Moscow. The total area of these data centers are over 7000 square meters, and their power is more than 5,5 mW. "Selectel" Ltd provides customers with a wide range of services, including servers' rental, data center co-location and leasing (dedicated) of server equipment, rental of communication channels, as well as designing and building data centers.
Cisco, the worldwide leader in networking that changes the way people live and communicate, this year celebrates 25 years of its successful activities in the field of technological innovation and social responsibility. For more information about Cisco and its services and products, please, visit www.cisco.ru and www.cisco.com.
Armo-Line Engineering Company is a member of ARMO Group of Companies. ARMO-Line specializes in design, installation and commissioning of internal building engineering systems and its automation and dispatching. The main ARMO-line activity is to provide the implementation of engineering and building projects for corporate clients. The company has a large number of completed projects with installed building engineering systems for banking offices, shopping centers, chain stores, hotels, warehouses and data centers.