20.05.2011
New ARMO-LINE project - educational and laboratory systems for Moscow Construction college № 38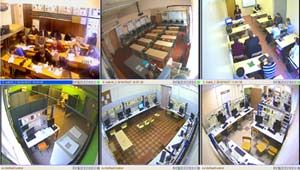 ARMO-LINE has completed the project on engineering and technical equipment installation for the educational and laboratory systems in Moscow Construction college № 38. All project operations were commissioned by Moscow Department of Education within the "Education" national project. Company professionals have developed special educational booths for students with all necessary engineering equipment. According to the project, engineering company provided design, equipment supply and installation of fire alarm systems, fire fighting and smoke removal systems, CCTV and access control, as well as local engineering automation.
The college modernization was carried out aiming to overcome the quality gap in the training process of young professionals. It was made possible by support of primary and secondary professional education under the "Education" national project.  Engineering equipment installation was provided by ARMO-LINE Engineering Company, which developed educational booths and laboratory systems for testing theoretical and practical skills of the students.
As a part of the contract, ARMO-LINE specialists have installed and commissioned 3 educational laboratories and 3 laboratory systems in "Krzhizhanovskoe" Department and one laboratory with a laboratory system in "Chongarskoe" Department of Moscow Construction college №38. In total, the college laboratories were equipped with about 30 educational booths, which give the opportunity to work directly with the equipment and enhance practical skills in programming, installation and maintenance of these engineering systems. In contrast with laboratories, educational and laboratory systems are designed to demonstrate the functionality of existing systems.
Laboratory and laboratory systems in "Chongarskoe" Department covers issues on the local engineering automation systems, including air conditioning and forced-air ventilation, individual heating units and the electricity board. For practical and laboratory studies these laboratories are provided with workstations, featuring preinstalled AutoCAD software for engineering systems programming.
According to the project, ARMO-LINE has accomplished integration of all engineering equipment in the standard LonWorks network via TP/FT-10 network interface. All data is backed up on the server, while monitoring and management systems administration is based on PsVue SCADA-system (ARC Informatique, France). The system has client-server architecture, so each teacher can simultaneously control students' work as well as monitor activities in other laboratories and laboratory systems. The installed systems utilize Wago and Thermokon controllers, as well as Loytec network equipment as automation tools for overall engineering systems.
For more information on design, installation and commissioning of automation and engineering systems, please call (495) 787-33-37, ARMO-LINE, Projects Department. If the requested information is not confidential, we will be pleased to share it with you.