03.02.2014
ARMO re-certified as a Cisco Premier Certified Partner in Russia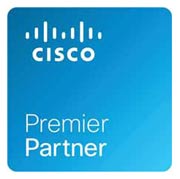 ARMO has been successfully re-certified as a Cisco Premier Certified Partner. This achievement testifies to the high skills and qualification of the Company's specialists in the building of Cisco-based IT systems.
ARMO has been a Cisco certified partner since 2004. During this time, the Company implemented numerous projects of various scale and complexity that were based on vendor's products and solutions. The qualification level of our specialists is confirmed by CCIE, CCNP, CCDP, CCNA, and CSE certificates.
Cisco Premier Partners receive extensive training and are able to assist not only in selecting the correct equipment, but also to offer the optimal solutions of how to deploy it and enhance the efficiency and development of the Customers' business on the whole.
During the years of co-operation, ARMO has acquired considerable experience in design, implementation and support of the Cisco solutions used for the construction of IT and telephone systems, LAN, wireless networks, as well as for ensuring information and physical safety. ARMO plans to further improve co-operation with Cisco and develop its competencies in a number of technological specializations.