15.04.2010
ARMO-Systems to Present New CCTV Equipment at MIPS-2010 Exhibition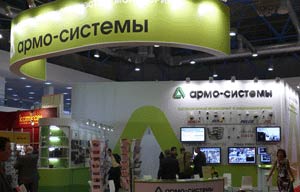 ARMO-Systems, part of ARMO group of companies, invites to visit its booth С21 at Pavilion # 1 on April 19 – 22, 2010 in Expocentre exhibition complex, within the 16th MIPS-2010 International exhibition. The central part of the exposition will display integrated video surveillance solutions and equipment of famous brands, including Axis Communications, Arecont Vision, Bosch Security, Cisco, JVC Professional, Milestone, Pelco by Schneider Electric, Sanyo, etc. In other sections of the booth ARMO-Systems will demonstrate state-of-the-art Satel burglar alarm systems, Simplex and Vesda fire alarm systems, and Bosch notification systems, as well as new access control solutions from HID, Lenel System, Sagem, ZKSoftware, and other companies.
Visitors will not fail to notice Endura CCTV system from Pelco by Schneider Electric, which represents a full-featured solution for high definition video coding, recording, archiving and viewing, and also allows to use third-party equipment and IP cameras after purchasing additional licenses. The Endura system will be demonstrated with Pelco Sarix cameras, including IX10DN, IM10, and IDE20 models, as well as third-party video equipment. Pelco's patented EnduraView and EnduraStor technologies minimize video system budgets and allow to use megapixel cameras to full advantage.
ARMO-Systems booth will display Cisco IP video surveillance system built on Video Management software platform, Cisco Integrated Services Routers (ISR) and Storage Systems (VMSS). Among main advantages of this solution is fast system deployment with central monitoring station, e.g. for large company's head office and branch offices, as well as support of third-party video surveillance equipment. Cisco 2421 and 2520 IP domes and Cisco 2500W and 4300 classic design IP cameras will be installed in the booth for visualization of video system operation. 
Professional will be interested in a new version of XProtect Enterprise software from Danish Milestone company, which can serve as a base for building large-scale IP video surveillance systems, and supports over 700 models from 75 manufacturers. XProtect Enterprise software offers a new GUI, faster IP device network configuration, and features system restore points and mass settings for IP devices, as well as supports integration of video surveillance equipment with other security systems. New Sanyo VCC-HD5400P speed domes, AXIS P5534, JVC VN-V686U, and Arecont Vision AV3110 3MP cameras will be installed in the booth and operated by XProtect Enterprise software.
In burglar alarm section, users will have a chance to assess capabilities of Satel burglar alarm system, which can protect facilities of any scale: from business centers and office buildings to cottages and apartments. ARMO-Systems booth will show operation of the latest Satel Versa series of control panels allowing to expand any wired fire alarm panel with wireless devices and providing high level of data protection due to use of two-way radio connection with data encryption.
Access control specialists will take interest in new OnGuard access control system from Lenel Systems. Thanks to open architecture, this platform allows to integrate access control with building management and other security systems, e.g., use Lenel SkyPoint IP video surveillance system and other third-party equipment. Due to support of biometric technologies, OnGuard access control system allows to use not only RFID readers and access cards, but also biometric readers from Sagem, Recognition Systems, ZKSoftware, etc.
Among new fire alarm products, ARMO-Systems will present solutions from Simplex and Vesda. The booth will demonstrate Simplex 4100U control panels, which support 2000 points and open BACNet protocol, and serve as notification and evacuation control systems. BACNet protocol allows to integrate Simplex fire alarm with third-party building management systems, as well as software products for CCTV and alarm system integration.  New VLP series of smoke detectors with built-in gas sensors will be also on display, as well as other new products.   
Booth section devoted to notification systems will display Plena Easy Line budget system from Bosch Security Systems, which can have 1 or 2 zone configuration and provides automatic voice fire alarm notification and plays background music at small and average facilities. The core of the system are 30 – 240 W single- or double-zone mixer amplifiers supporting zone marking and equipped with smart equalizer and volume limiter.  For building notification systems, they also allow to connect additional equipment, including power amplifiers, up to 8 call stations, up to 4 remote control panels, as well as background music sources and loudspeakers.
For more information about new CCTV, access control, and burglar & fire alarm equipment, as well as about time and place of ARMO-Systems topical seminars, please visit Pavilion 1, booth С-21 at MIPS-2010 exhibition in Expocentre.
ARMO-Systems is among Russia's major distributers of CCTV, access control, and burglar & fire alarm equipment.  Currently, the company has on staff over 100 specialists, 75% of which are employed in security equipment distribution and sales throughout Russia and the CIS.  ARMO-Systems markets security systems for industrial facilities, shopping centers, office and administrative buildings, banks, business centers, hotels, sports and cultural venues, etc.