04.10.2010
ARMO-SPB to Demonstrate New Integrated Solutions for business Security at SFITEX-2010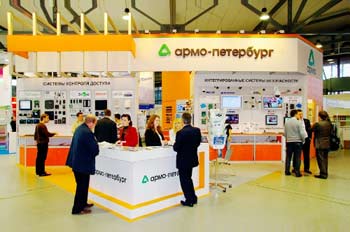 We invite you to see new security equipment and integrated systems from the world's leading manufacturers, which will be displayed in ARMO-SPB booth #D17 at LENEXPO, exhibition hall 7 within the framework of the 19-th 'Security & Protection – SFITEX 2010' International  exhibition to be held in St. Petersburg on October 5 – 8, 2010. The booth will demonstrate operation of new Smartec NEYRO series cameras with video analytics, ZKSoftware biometric access control systems, Vesda aspirating smoke detection systems, as well as new products from Axis, Arecont Vision, Bosch, Cisco, Pelco, Sanyo, etc. During the exhibition ARMO-SPB specialists will hold 2 seminars.
Burglar & fire alarm section will display Esser by Honeywell and Satel equipment, as well as Bosch digital notification systems. The highlight of ARMO-SPB exposition will be Vesda by Xtralis early warning aspirating smoke detection system, which includes PVC pipe network, smoke detectors, programmers, monitors, etc. High effectiveness of the system is provided due to continuous draw in of air samples from different zones of protected area, and use of laser technology for tracing smoke particles in air samples.
For access control systems ARMO-SPB will present HID products, in particular, Indala family including Proximity readers of classis and unusual design, 125 KHz ID cards and tags. In addition, the booth will demonstrate operation of ZKSoftware equipment: biometric terminals, readers, and locks, as well as Lenel integrated access control systems, Sagem and other manufacturers' equipment.
The central part of the exposition will be devoted to CCTV systems, and will demonstrate operation of new megapixel IP cameras from famous manufacturers, including AXIS Communications, Arecont Vision, Cisco, Pelco, and Sanyo; new versions of Milestone, Lenel Sky Point, Pelco DS NVs, and other software for CCTV systems. The company's specialists will introduce GE/UTC Fire & Security new line of Ethernet switches, media converters, splitters, etc., designed for security systems of different sizes.
New Smartec equipment will be displayed in a separate section, including innovative NEYRO series of IP cameras and video servers with built-in video analytics. In new analog products, special attention will be given to Smartec STC-3906 PTZ camera with unlimited Pan and Tilt and IP68 rating, as well as to modernized line of Ultimate series outdoor cameras, including STC-3630 and STC-3620 models. In the same section ARMO-SPB specialists will demonstrate capabilities of NetStation software, and access control and time management systems from Smartec.
Within the framework of the exhibition, in conference hall (#H50) of exhibition hall 7 ARMO-SPB experts will hold two free seminars. Seminar on Smartec IP controllers, biometric and external equipment for access control and time management systems will be held on October 6 from noon to 1 PM, and will be used to present new access control equipment and to showcase building access control systems with Smartec equipment. The second seminar to be held on October 7 at the same time will cover Vesda, Bosch and Esser aspirating smoke detection system advantages for early fire detection.
For more information about demonstrated CCTV, access control, and burglar & fire alarm equipment and new products, please call (812) 449-1435, 449-1436 or e-mail at armo-spb@armo.ru.
ARMO-SPB is a supplier of solutions, systems, and equipment from famous global manufacturers, used to build CCTV, access control, burglar & fire alarm, and other security systems. ARMO-SPB is part of ARMO group of companies and represents its capabilities and interests in St. Petersburg and neighboring areas in the Northwest Russia.