17.03.2014
ARMO-Vox to Present Voice Technology Based Innovative Solutions at XIII Call Center World Forum 2014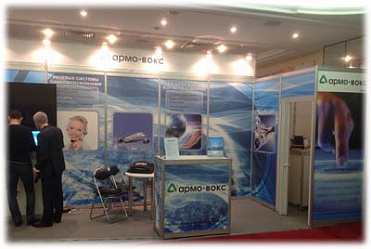 ARMO-Vox, a developer of speech technology-based business applications, invites specialists to visit it's booth at the 8-th international Call Center World Forum to be held on March 18-19, 2014 in Moscow Radisson Slavyanskaya hotel. At the exhibition within the forum, ARMO is to present applications for voice synthesis, speech recognition, voice biometrics, as well as mobile applications allowing to process caller requests without contacting a call center. 

ARMO-Vox, part of ARMO group of companies, specializing in development and implementation of speech technology-based self-service systems for call centers, is to present at the forum it's business applications for banks, telecommunication agencies, and transportation companies. The offered solutions allow to improve quality of service, reduce call center expenses, and raise technical level of business processes as well as information security, with investments in new technologies returning within 1,5 years.
Calling a bank call center equipped with ARMO-Vox voice self-service system, a client in a usual dialog would get from the system's robot information about his or her state of account and interest rates, can change PIN code, transfer money, apply for a credit, learn the location of the nearest ATM, report bank card loss, etc. ARMO-Vox solution provides caller ID verification, intelligent call switching ,and auto report generation.
Telecom operator's subscriber contacting a call center with ARMO-Vox voice self-service system and asking his or her question in any form, would get latest information about state of account, and statistics of services received from the operator, as well as can contact technical support service. Using voice biometrics technologies in telecom operators' call centers allows to offer to subscribers fast and convenient means of changing passwords and a secure access to financial data.
At transportation companies, automated telephone call processing system based on ARMO-Vox solutions is the most convenient service for passengers and a way to reduce call center's personnel and operating expenses. Contacting a voice call center, a caller can ask his or her questions and get information about timetables, ticket prices, baggage allowance rules, flight location and direction. In addition, ARMO-Vox applications allow passengers to reserve seats and change/cancel reservations, as well as use bonus point system.
Call Center World Forum is the largest Russian venue for call center owners' meetings and business communication with the world's leading equipment suppliers, system integrators, and service providers. It is the 8-th time the Forum has been held, and it has drawn 40 exhibitors and expects over 2000 managers and specialists involved in call center operation.
In ARMO-Vox booth, guests of the Forum will be invited to learn about high-demand speech technology solutions, test their operation, and get consultations on use of voice applications for mobile devices. Within the framework of Demo-Forum, a specialized exhibition session, ARMO-Vox specialists are to hold 3 seminars to share their experience of implementation of speech technology-based systems, their use in call centers in various business sectors, as well as their cost-effectiveness and payback.
For further information about use of ARMO-Vox business applications in call centers of transportation, financial, telecommunication , and other sectors, please, email to armovox@armo.ru, or use multichannel telephone line at +7(495) 620-9448.
ARMO-Vox is a part of ARMO group of companies and specializes in development and implementation of speech technology-based business applications. The company's innovative solutions for insurance, banking, transportation, and telecommunication companies are designed to improve their service, increase information security, and reduce call center expenses. Along with development of voice platforms, ARMO-Vox specialists offer a full range of services related to their on-site implementation, operation, and technical support.