26.06.2013
ARMO-LINE has started to install low voltage systems at the Spartak stadium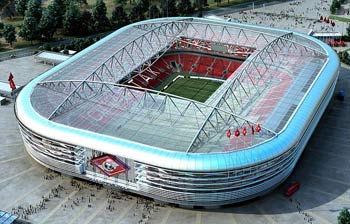 In June 2013, ARMO-LINE began to perform the work connected with construction and installation of the low voltage systems as well as the automation system and BMS at Moscow.
Within the framework of the project ARMO-LINE is responsible for revising the detailed design, supply of equipment, installation and commissioning of the automation system and BMS, as well as the security system and the fire protection system for the stadium building.
According to FIFA regulations, an integrated control and dispatching system which will make it possible to operate automatically the MEP equipment of the stadium building and entrance space, the sports lighting, the separate and central heating substations and also the football pitch irrigation and drainage system will be deployed at the stadium.
Sports facilities with these features and of such a size require a great deal of attention to technical safety. That is why the stadium will be equipped with integrated security systems including the automatic fire alarm, public address & evacuation control, CCTV, access control, intruder alarm and video intercom systems as well as a number of other dedicated systems.
State-of-the-art technologies and equipment from the leading global producers: Schneider Electric (TAC, Pelco, APC), Esser, Bosch, Dell, Cisco, Danfos, Grunfos, Siemens, Commax, Activision, Optex, Moser-Baer AG, Abloy and others will be used for fitting the Spartak stadium.