05.04.2011
ARMO-LINE has developed SmartSchool system for educational process automation at 'President' School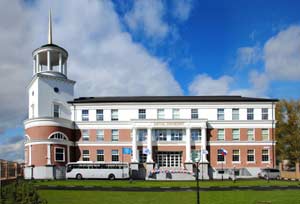 ARMO-LINE Company has completed its project for complex automation of educational process at 'President' School. Within the framework of the project, the company has developed and implemented innovative   SmartSchool  software-hardware complex. The new product, specifically designed for educational institutions, incorporates electronic school register with user authorization by access cards, student E-recordbooks, electronic kiosks within the school, as well as general system integration with access control and other special-purpose equipment.
Specifically for 'President' School located on Rublevo-Uspenskoye highway, ARMO-LINE specialists have developed and successfully implemented SmartSchool automated system of educational process management. The system incorporates such key elements as electronic school register, E-recordbook, and a network of electronic kiosks within the school. An important Smart School advantage compared to similar systems is its integration with access control and other special-purpose school equipment.
The distinctive feature of electronic school register is its integration with access control system which provides high level security for data transmission. After teachers' PCs were fitted with proximity readers, user authorization has been done by individual access cards, which guarantees integrity and authenticity of grades in the register.  
To provide data security, all information is kept on the local school server, the core of which is MySQL database management system. All information is also backed up on external Web server, with session-based data synchronization. For that reason this electronic school register is approved by the Department of Education and does not require any hard copy.
SmartSchool system also features student E-recordbook, which allows a student and, in the first place, his or her parents to log in at school website and view the following data: grades, home tasks, achievement analysis, final grades, timetable, school load control, In addition, the system allows students' parents to enter into correspondence with teachers and other school staff (psychologist, medical worker, sports instructor), members of  school board, as well as other students' parents.
For students' convenience, electronic interactive kiosks have been installed, that allow to get fast access to information about grades, home tasks, timetable, school or class announcements, distribution of classrooms, availability of books in the library, etc. All kiosks are connected with the local school server via TCP IP, so information is updated in real time.
On the Client's request, Gunnebo Italdis turnstiles installed at the school entrance have been also integrated into SmartSchool system. Due to this, now it is possible to notify parents about exact time when their child enters and leaves the school building (information is available in the Internet, as well as  SMS notification).
For more information about SmartSchool system for educational institutions, as well as about our other projects, please contact ARMO-LINE project department at (495) 787-33-37. If the requested information is not confidential, we will be happy to provide it to you.