06.03.2012
ARMO has moved to the new office at Dvintsev St.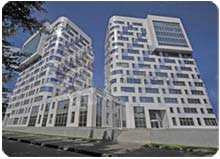 Dear clients and partners, 

We are pleased to inform that ARMO Company has moved to the new office in 'Dvintsev', Class A Business Center, located at Dvintsev St. 12, bld. 1, entrance B.
BC 'Dvintsev' is close to the Third Ring Road (only 350 m) and available from main Moscow lays of line. The nearest tube station (10 minutes walk) is Savelovskaya.
You can find detailed location map in "Contacts".
We are glad to see you in our new office!