07.02.2011
ARMO-LINE completed engineering systems design of Retail and Entertainment Complex in Ryazan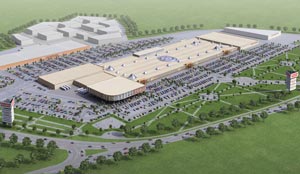 ARMO-LINE Company has accomplished design of building systems and launched installation of engineering equipment in "M5 Mall" Retail and Entertainment Center, Ryazan. According to the project documentation, new Retail Complex will consist of three separate buildings with 80,000 sq.m. of a total area and parking place for 3000 cars. Within the project framework, company professionals carried out design of engineering systems ("Project" Stage) and prepared working documentation for the electrical and lighting systems, water supply and sanitation, security systems and structured cabling systems for office and telephone service.
According to the project, "M5 Mall" Retail Complex is a complex consisting of three buildings totaling 80,000 sq.m.: commercial galleries, "DIY" Shop and "Auto café". In addition to the retail space new retail complex features a grocery hypermarket, multiple cinema theatres, restaurants, cafes and car parking for 3000 cars. Contract on design of engineering systems ("Project" Stage) was completed in summer 2009, while preparation of the design working documentation ("WD") was initiated in August 2010. 
Within the project framework, company specialists prepared working documentation ("WD") for power supply, lighting and energy saving systems of a shopping center and adjacent territory. As the main electrical control units specialists selected ABB Company products. Building power supply will be provided by three main switchboards with customers division based on zonal principle. In order to reduce the loading on the roofs as well as to decrease the amount of electrical operations and future maintenance of engineering systems ARMO-LINE professionals installed NAXSO tire building bridges as an alternative to cable trunk lines.
To ensure stable operation of electrical equipment, design of engineering systems provides backup power supply via diesel generators as well as centralized Uninterruptible Power System (UPS). For the constant, emergency and design lighting of buildings, ARMO-LINE selected electrical equipment from leading European manufacturers and provided a separate power supply system for emergency lighting and signs.
In accordance with the project on engineering systems design, ARMO-LINE developed water supply system, which combines cold water supply from municipal water supply system and hot water supply from its own boiler. Drainage system of the Retail Complex is connected directly to the central city sewer system, featuring different kinds of filters for certain areas. Storm water from the parking area and roof of the buildings, for example, has its own separate tank. To remove storm water project design provides using Geberit Pluvia vacuum system, renowned for its proved efficiency and durability.
To ensure safety of the overall Retail Complex, ARMO-LINE designed security alarm system based on Satel equipment, Smartec access control and video surveillance systems, as well as video intercom communication system. The purpose of these engineering systems - protection of general access areas, including central office and entrances/exits, cargo-handling areas, malls and recreation halls, common corridors and offices. In addition, ARMO-LINE professionals also designed the structured cable system for a computer network of offices and telephone service.
For more information on design, installation and commissioning of engineering systems, please call (495) 787-33-37, ARMO-LINE, Projects Department. If the requested information is not confidential, we will be pleased to share it with you.