21.01.2014
Kaspersky Lab Secure Office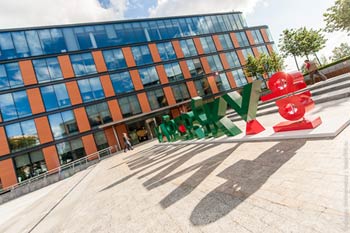 ARMO-Line Completes Project to Build Geographically Distributed Security System for Kaspersky Lab.
Today, Kaspersky Lab is the world's largest private company offering software IT security solutions. The company is a major international market player, with 32 regional offices in 30 countries worldwide.
Kaspersky Lab is headquarted in Moscow, in Olympia Park class "A" business park which covers the total area of 70,000 sq m including 45,000 sq m of office space and a 25,000 sq m parking area. From here the company controls its operations and global business development.
Therefore ARMO-Line engineers faced a challenge to build integrated security system for the company head office with capabilities of centralized control of sub-systems at geographically distributed sites.
For this purpose, they chose OnGuard Enterprise multiserver solution from Lenel Systems, which features open architecture and unlimited scalability and expansion capabilities. The platform was used as a basis for access control, CCTV, and burglar & fire alarm integration.
The installed integrated security system incorporates over 500 card readers, more than 350 IP cameras, and 300 TB storage for recorded video. For central server fault tolerance, the integrated security system features Microsoft software based failover cluster.
About Kaspersky Lab
Kaspersky Lab is the world's largest privately held business offering software IT security solutions. The company is among the 4 leading global producers of Endpoint Security* class protection systems. It has been over 17 years since Kaspersky Lab started to offer effective protection solutions for major corporations, SMEs, and home users. The key to company success is its innovative approach to information security. Kaspersky Lab's technologies and solutions protect over 300 million users in nearly 200 countries and regions of the world.
*The company ranked 4th in the 'Worldwide Endpoint Security Revenue by Vendor' rating, 2013. The rating was included in the IDC 'Worldwide Endpoint Security 2014–2018 Forecast and 2013 Vendor Shares' report, published in August, 2014 (IDC #250210). The rating was based on 2013 Endpoint Security sales revenue data.